The Need for Speed: Why Distance Is A Competitive Advantage In Golf
Tue Jul 28, 2020 by TPI

Of all the articles and videos on our site, the most common theme is centered around helping a golfer maximize power. We've detailed how to do it by optimizing swing technique, training and shared how we've helped golfers increase speed at the highest level (such as Cameron Tringale's record-setting speed increase).
The topics might range, but the message is the same. Longer is better.
Power is so important that one of our most popular courses - Power Level 2 (now offered via webinar on August 5th) - is entirely dedicated to the science of power in the golf swing. Why? Because we've never met a golfer who has asked us to help them hit it shorter.
And for good reason…
The statistics are clear. In competitive golf, speed is one of the most valuable weapons a golfer can possess. Here's a graph from Lou Stagner and Scott Fawcett representing average money won on the PGA TOUR by average ball speed.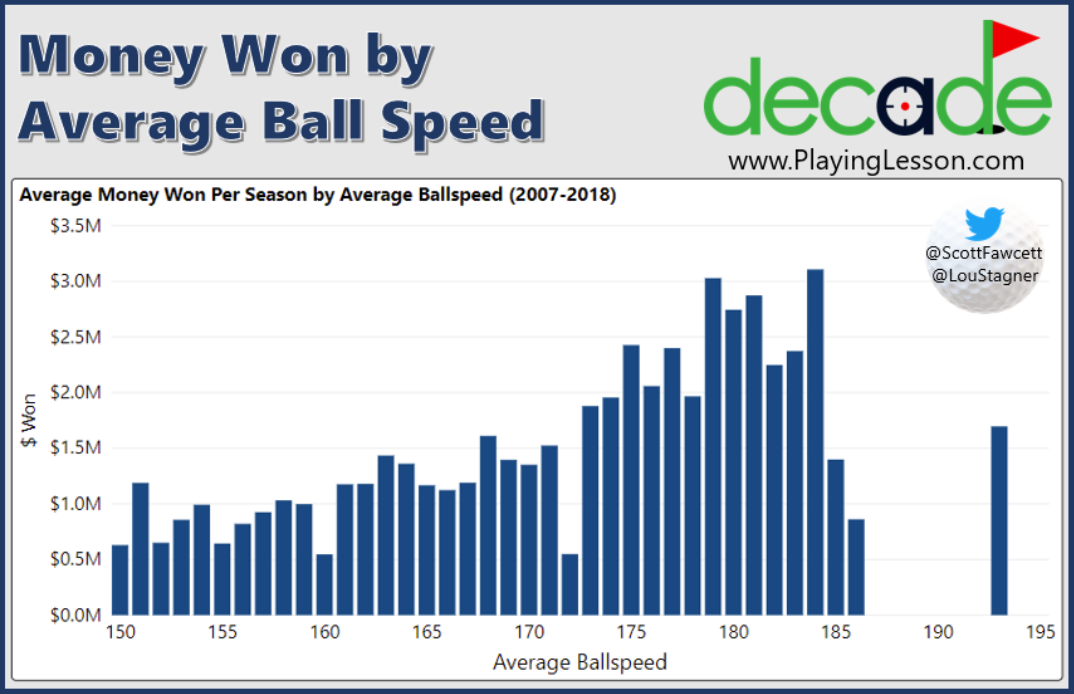 Notice the trend?
The benefit of speed isn't just reserved for elite golfers, either. According to Dr. Sasho MacKenzie, the scoring advantage that speed offers an amateur might be MORE significant than a professional (excerpted from Rapsodo Golf):
There's a very clear relationship between handicap and clubhead speed. High handicap players tend to not swing the club fast.

One representation I've heard is that on the PGA TOUR, for every 3 yards you gain, you can afford to be 1 yard less accurate to keep your "Strokes Gained Driving" the same. So your dispersion can increase by 1 yard for every 3 yards of increased distance.

The opportunity is even greater for a higher-handicapper. As a 15 handicapper, for every 3 yards you gain off the tee, you can be 2 yards less accurate. So if you gain 3 more yards off the tee and are only 1 yard more crooked, you're going to shoot better scores. This stat comes from Mark's son Chris Broadie who works at Ping.
The talk of the PGA TOUR in 2020 has been Bryson Dechambeau and, lately, Tony Finau who are flirting with 200 mph ball speed, but it's not just outliers who are driving the conversation. Professional golf, as a whole, is getting faster.
Here's one of the most telling statistics shared by SuperSpeed.
Number of PGA Tour players with average ball speed over 170 mph since 2009.

- 2009 = 43
- 2010 = 51
- 2011 = 59
- 2012 = 65
- 2013 = 66
- 2014 = 64
- 2015 = 70
- 2016 = 65
- 2017 = 82
- 2018 = 84
- 2019 = 99

— SuperSpeedGolf (@SuperSpeedGolf) July 9, 2020
170 mph used to be elite. Now it's average.
What about the women, you ask? They're getting faster too. Golf researcher Brendan Ryan posted some stats from the Arkansas women's team in a WRX article last fall. Of the seven golfers on the team, only two had a swing speed lower than the LPGA Tour average of 94 mph. Three golfers exceeded 100 mph (108 mph, 106 mph and 101 mph).
"The bar is getting raised every day, I'm seeing the next generation of women getting more athletic, which helps with the speed component but also with the ability to make changes quicker in their individual coaching programs."

- Joey Wuertemburger, a teaching professional with 100-plus college players
Want to help a golfer excel competitively? Give them the gift of speed.
My buddy @LouStagner forwarded me some stats about what is distance "worth" in the most simple terms:

+10 yards in driving distance - approximately 0.6-0.7 shots per round.
+20 yards in driving distance - approximately 1.2 shots per round.

— Jason Zuback (@Golfzillazuback) July 7, 2020
This post isn't about "how" to help a golfer maximize speed, it's about "why" you should help a golfer maximize speed. Hopefully, the case for speed is pretty clear. If you're interested in learning some of the techniques and assessments we use with golfers who see us at TPI, we'd highly encourage you to consider our upcoming Power 2 course (FYI: if you've already taken Power Level 2, you can audit the webinar for free). Otherwise, we have HOURS of complimentary content related to power on our YouTube page or in this "Articles" section of our site.
---