Physical Education as a Solid Foundation for Junior Golf
Fri Dec 9, 2016 by Ricardo Picorelli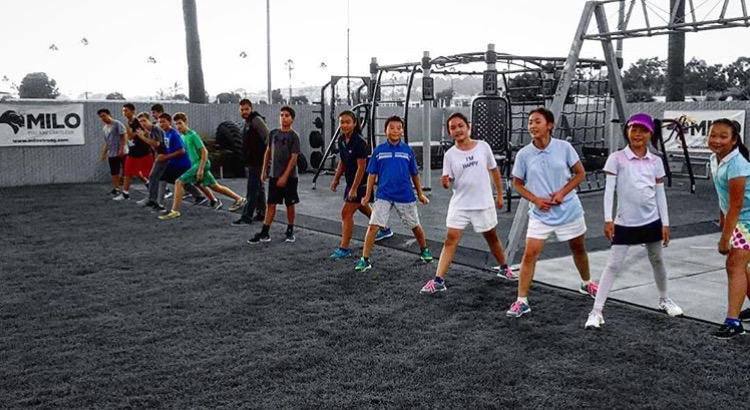 By: Prof. Ricardo Picorelli (Photo Cred: Milo Bryant of Dynamic Golf Solutions)
Remember the last time you took a PE class? Did you have gym class every day when you were at school?
Well, if you did, you were very fortunate. Nowadays, school districts are cutting down on PE classes and lowering the amount of time children are outside playing during recess.
As a golf professional, you might want to ask yourself: how can those cuts at my young student's school can affect my junior program? Those extra 45 to 50 minutes a week they aren't moving and playing create huge physical skill gaps when you add them up at the end of a school year. Consequently, we need to be assessing our young athletes to understand their current developmental stage so that we can focus on developing them as athletes first, golfers second. Your junior golf program actually has an opportunity to become that extra PE period your students need to develop essential skills.
So what are the key elements kids are missing out when they have a limited time playing outside or lacking a well guided and structured physical education class? Physical literacy, for one.
PHYSICAL LITERACY
The central focus for any top-schools Physical Ed curriculum is to develop physically literate children so they can move confidently and efficiently in a broad spectrum of physical activities.
Think all young athletes move well? Think again. Dr. Greg Rose outlines how the program works in the following video (and article) about the importance of evaluating movement in junior athletes.
In our PE classes here at Saint John's School in Puerto Rico, we have intertwined and applied the standards and outcomes with the stages of Long Term Athletic Development. We look at the grade level outcomes and compare it with a series of pre-unit assessments in regards of the topic that will be covered.
Our pre-school and lower elementary (PK-2nd grade) focus is on FUNdamental Movement Skills (discussed in Dr. Rose's video above). This is your Cyclone group. It is taught in detail in TPI's Junior Level 2 course, but here's a brief overview of how we go about it:
FUNdamental Movement Skills:
It's essential that we understand that all young students need to be exposed to the 4 types of FMS components (Locomotive, Stability Skills or ABCs of Athleticism, Manipulative and Object Control Skills, Spatial Awareness) to be able to gain a proper foundation to develop the necessary coordination, speed, body awareness and control objects while performing any specific motion.
In my PE class I will start every single class going thru all this FMS checkpoints:
Walk: On your toes / On your heels / Fast-Slow / Short and Long Steps
Run: Jog / Sprint / Slow-Fast / Change of direction
ABCs: Skipping forward and backwards, Galloping, Sliding
Balance: Run, Stop and Pose game using 1, 2, or 3 point stances.
Many of these I check with games. Tag games are effective in demonstrating and improving Spatial Awareness, Kinesthetic Awareness and Body Awareness. They also are a great tools for observation. You see how kids are grasping and applying those essential movements. This is a key element for understanding how well they process information and put it in to action. There are a ton of games you can look for that will help set the tone of your junior class. Here are a few sites that can help you: www.shapeamerica.org www.pecentral.com among others.
Our Upper Elementary students (3rd to 5th grade) get initiated on sport based manipulative and object control skills. These are known as:
Fundamental Sport Skills
Here the objective is to introduce your student to activities that require their overall body control skills. With these you want check just how much segmental control and coordination a student shows. If their previous experience with FMS was missed or not well based, the possibility of adequate FSS learning will be limited. Remember they have windows of opportunity at different developmental stages that need to be addressed or they will be closed for good. This will make it harder on them to develop and will create gaps between his/her peers. For instance, object control skills are a prime when trying to develop hand-eye or foot-eye coordination. It is within these type of activities that we usually identify developmental gaps. There are key check points to look for when you have your students working on any skill:
Is the activity that I choose for them to work on has a positive transfer of learning towards the skill or movement I want my athlete to develop?
Am I being clear (Verbal) and properly demonstrating (Visual) all the key elements of the activity?
Does it line up with the outcome I want to see at the end of the session?
Is it measurable?
These elements go a long way in determining if your athlete is gaining positive outcomes after each session in your program.
But when it comes to making those outcomes tangible and verifiable, there are tools that will help you and make a positive impact on your program's reliability and will get many parents attention on how your development program is making an impact...
Continuous Assessment
Initial physical and technical assessment of our athletes is a priority in order to properly place them within their developmental age group. But, how do you know they are analyzing, applying, and processing all the new knowledge during the practice sessions? You need to collect their learning progress with verifiable data. How would you manage to keep an ongoing record of your athlete's progress? By keeping an individualized skill progress reports.
It starts with closely observing your young athletes. Pay attention to how that athlete is performing any skill or drill and be aware of how good his retention and skill application interact.
Secondly, it's often helpful to incorporate a rubric or evaluation system. Many times (and we can agree that it happens almost all of the time) you will have a dad or mom come after the session and ask: How is my child doing? Remember, sometimes educating parents and providing the information that is pertinent to them and related to the progress of your athlete is as important as educating the athlete.
The rubric is a tool that places value to a specific set skill, movement, and or behavior. It's a way to go into a more detailed technical aspect of the skill that's being taught. It gives differentiation among levels of learning and prowess. Each level is described from what is the high proficiency level to the early development of the skill. Each level is given a score and its gives an outcome based overview of where that athlete development is within that movement or skill set.
There are many web based pages that will help you develop rubrics for each technical and physical skill you have in your program.
Here is one that I use at the end of each semester for Behavior, Participation, Preparation, Knowledge, Character Development, and Overall Performance.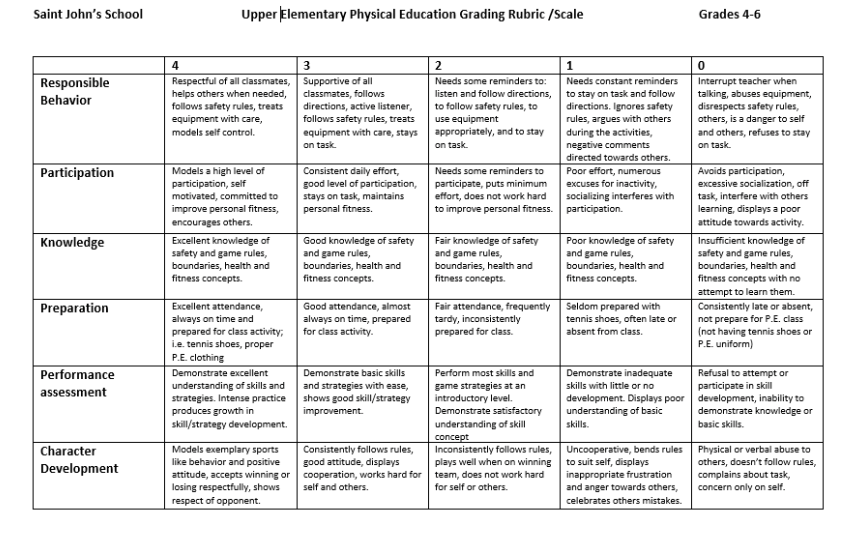 Look at your program as an extension of that junior's physical literacy development. The PE and recess time that is being taken away from them is crucial for their physical and mental growth. If we want to be their go to activity after school we must make the commitment to make it FUN, INCLUSIVE, PLAYFUL, and STRUCTURED.
To learn more about some of these concepts, check out TPI's Junior Level 2 and Junior Level 3 courses.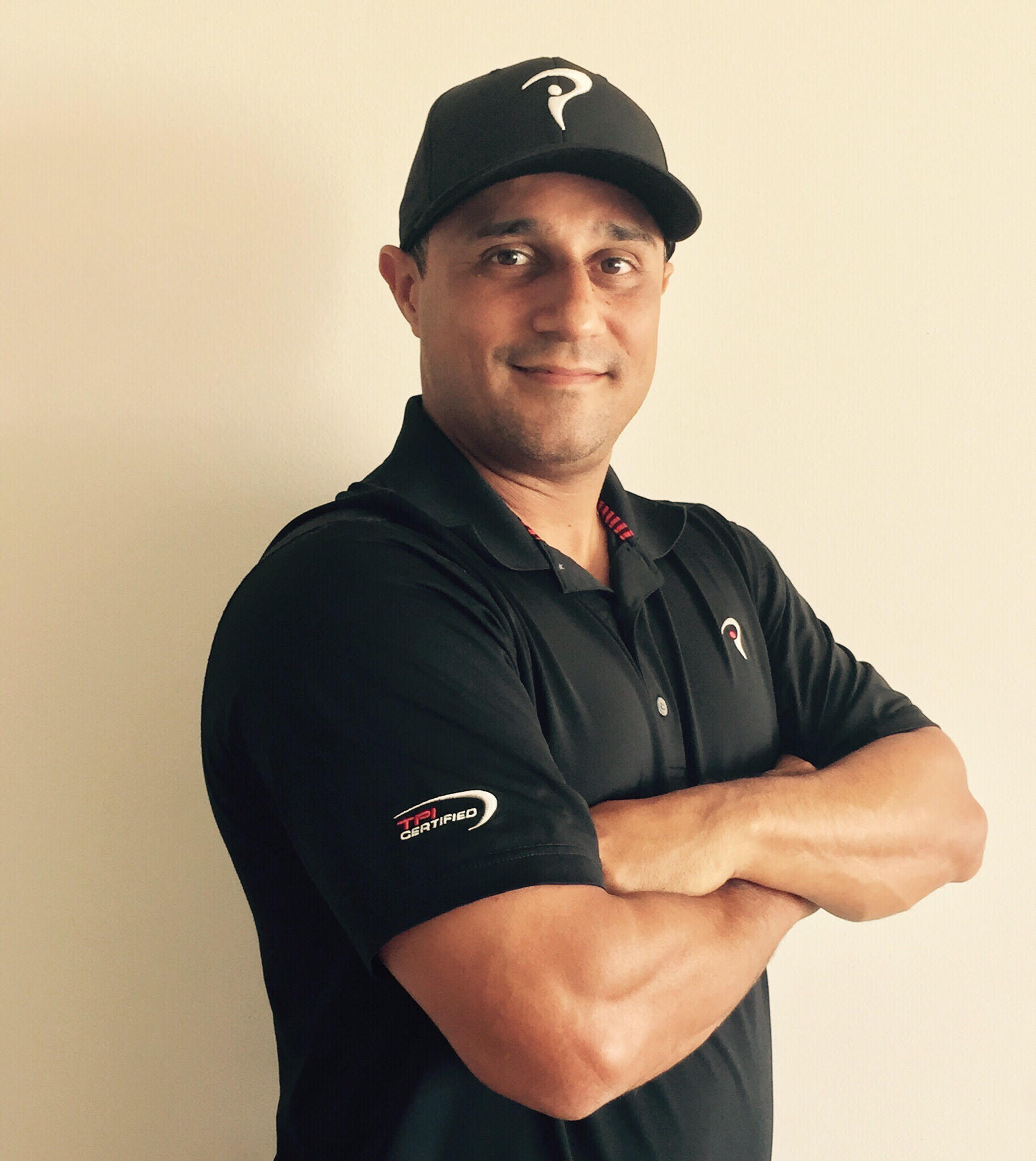 Ricardo Picorelli is a Physical Education Teacher at Saint John's School in San Juan, PR. Ricardo has numerous professional certifications, including TPI Junior L3 / K-Vest Human Motion Instructor L1. His email is: rpfitnesslab@gmail.com
---