---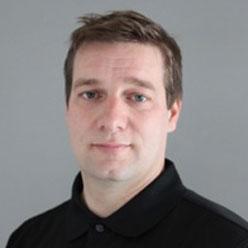 Cyril LE GOAZIGO Cyril was born in june 1973 in France. After a finishing his carrer as a handball player, he graduated as a sport teacher at Paris René Descartes Sport University. He also graduated European strength and conditioning trainer from Lyon (France), Torino (Italy), Lausanne and Macollin (Switzerland) and Bruxelles (Belgium) Universities. He previously taught in college and high school and now teaches handball, strength and conditioning and golf at the world renown Sorbonne Paris University.
Cyril has been an athletic trainer for professional and high level athletes for many years. He spent several years training professional handball and basketball teams and the worked with the best figure skaters in France. Cyril is now very specialized in golf fitness and 3D analysis for golfers.
With his compagny, GOLFLAB PERFORMANCE, Cyril is the lead Level One TPI Certification Instructor for France. Furthermore, he is currently working at a new "TPI Junior" golf school and a golf expert performance center near Paris, where he works with professionals and the best french amatuers.
Cyril LE GOAZIGO Cyril est né en Juin 1973 en France. Après une carrière de joueur de handball, il a obtenu son CAPEPS d 'enseignant d'éducation physique au STAPS de l'Université Paris René Descartes. Il est également titulaire du diplôme Européen de préparateur physique des universités de Lyon (France), Turin (Italie), Lausanne et Macollin (Suisse) et Bruxelles (Belgique). Il fut enseignant d'éducation physique en collège et en lycée, et enseigne actuellement à l'Université Paris Sorbonne en tant que spécialiste du handball, de la musculation et du golf. Dans le même temps, et ce depuis plusieurs années, Cyril est préparateur physique auprès de sportifs professionnels ou de sportifs de haut niveau. Il a été en charge de la préparation physique d'une équipe professionnelle de handball, et de basketball, mais aussi des meilleurs patineurs artistiques français de niveau mondial. Cyril est maintenant hautement spécialisé dans le golf et dans l'analyse du swing grâce à des systèmes 3D. Avec sa société, GOLFLAB PERFORMANCE, Cyril est devenu instructeur TPI. Il développe les certifications du TPI et tous les événements de ce centre d'expertise sportive. Dans le même temps, il crée de nouvelles écoles de golf "TPI Junior", un centre d'expertise et de performance golfique près de Paris et prépare physiquement des joueuses et joueurs professionnels ainsi que de très bons amateurs français."