---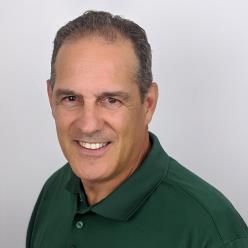 Fran joined FitGolf Franchises, LLC in 2004 as a consultant commissioned to standardize and create the company's sales, marketing, and training programs. In 2005, Fran became an employee as the Vice President of Sales and Marketing. Before he came to FitGolf, Fran spent over two decades in positions ranging from Sales Manager to Director of Business Development by creating ways for companies to be more efficient for maximum effectiveness. In his 16 years with FitGolf, Fran has created a predictable, revenue-generating Golf Fitness business process that has been standardized throughout all of the company's locations. Fran is also the creator of the FitGolf Golf Fitness Selling Sequence (C.I.R.P.), which is the guide for what to say in any situation, at all times, to direct golfers to come into our shops.
Over the last 25 years, Fran has also consulted with numerous small business owners about how to increase revenue. These consultations have included a wide variety of businesses, such as Physical Therapists, Fitness Professionals, Golf Fitness coaches, plumbing and heating contractors, photographers, Mortgage Lending and Real Estate professionals, and more.
For the last 12 years, Fran has been most excited to be able to work closely with several PGA Sections throughout the country to develop Golf Fitness educational programs and other tools to help their Golf Teaching members develop stronger relationships with the golfers they are instructing. The relationships he has developed with these teaching instructors has enabled FitGolf to educate and communicate with tens of thousands of golfers about the importance of Golf Fitness to improve their game. This has become his contribution to growing the Golf Fitness marketplace for all Fitness Professionals.