---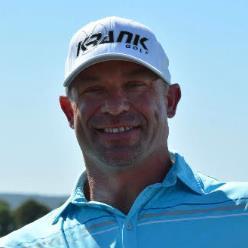 1996 - 1997 - 1998 - 1999 - 2006 - 2015
WORLD LONG DRIVE CHAMPION
Jason Zuback has earned international fame in the field of golf as one the world's longest driver of a golf ball in the history of the game. He is the six-time World Long Drive Champion. He is the only competitor to have won more than 3 open division championships (5 Open titles + 1 Senior). Jason is the first from outside the United States to have won the prestigious title. In fact, he is the first international competitor to have ever made it to the finals in the event's history.
Jason has been involved in golf related fitness his entire career, and has been part of TPI since its inception in 2003. TPI is the world's leading educational organization dedicated to the study of how the human body functions in relation to the golf swing. Jason joined the highly acclaimed field of TPI advisory staff members a number of years ago, and is an instructor in the TPI Power Coach Certification program. Jason holds a very unique position on the TPI advisory staff. He competes and has competed at the highest level in the sport of long drive through his tenure, as well as performing a full schedule of outings, exhibitions, appearances and corporate/charity events each year. Jason brings a unique blend of real world expertise and experience in strength, power and speed training, and their application to golf. He has worked with many notable experts and leaders in sports performance and golf technology. Jason has a strong scientific background being a pharmacist graduating from the University of Alberta with distinction, bringing an uncompromised work ethic and discerning analytical approach to golf fitness and performance. Jason has put theory into practice having success at the highest level in his sport, proven by 6 World Titles over 20 years of competition. Jason has worked with many players from amateur to tour professional on golf related fitness and distance improvement.
Jason stormed the worldwide Senior Long Drive scene in 2015, just like he had some 20 years earlier in the Open Division. Jason earned two World Championships in the +45 year age bracket with wins at the: World Powergolf Matchplay Championship in Sweden, and the World Long Drive Championship in Oklahoma, USA.
Jason claimed his 6th World Long Drive Championship in his 20th year of his career. In his first appearance as a Senior competitor, Jason dominated the field by winning every round of the competition, and winning the final head to head match by 20 yards. Jason is the first competitor in history to win both the Open and the Senior Championship in first appearances in respective divisions.
At the World Powergolf Matchplay Championship in Linkoping, Sweden just a few months prior to the World Championship, Jason navigated through the exceptionally strong field of Senior competitors in the head to head match play format to capture the victory. Also competing in the Open division, Jason held his own against the world class field advancing to the match play final, but coming up just short with a second place finish.
Jason has set the benchmark of performance consistency at the World Long Drive Championship and amassed a number of accomplishments with respect to the sport of Long Drive:
40 Long Drive titles including:

1996, 1997, 1998, 1999, 2006 World Long Drive Championships – Open Division.

19 Top 25 Finishes
14 Top 12 Finishes
12 Top 10 Finishes
10 Final 8 Appearances
7 Top 10 Finishes in a row
3 Straight title defenses (next closest - 1 title defense)

2015 World Long Drive Championship – Senior Division
2015 World Powergolf Matchplay Championship – Senior Division – 2nd Open Division
2001 International Long Drive Championship
1998 LDA Tour Championship

1472 days without a loss in LDA sanctioned Long Drive competition.
All-time leading money winner in Long Drive history.
First competitor at World Long Drive Championship to win under straight shootout and head to head match play formats.
First and only competitor at World Long Drive Championship to win both the Open and the Senior Championships in first appearances in respective divisions.
Recognized Guinness World Record for the fastest ball in all of sports in 2007-2013. Included in the 2013 Guinness Book of World Records hard copy.
Special awards:

Canada's Golf Personality of The Year - 2000
Long Drivers of America Hall of Fame - 2003
Alberta Sports Hall of Fame - 2002
Sir Winston Churchill Hall of Fame - 2000
Lethbridge Sports Hall of Fame -1999

Longest drive in competition - 463.0 yards
Longest drive (witnessed) on a golf course - 520.0 yards
Longest drive on the fly (in competition-certified) - 430 yards 10 & 51/64 inch
Longest drive down a runway - 714.1 yards (laser certified and witnessed)
Fastest club head speed measured - 163 mph
Fastest ball speed measured - 223.7 mph
Jason has appeared in print media World Wide including; USA Today, Time Magazine, Sports Illustrated, Golf Magazine, Golf Digest, Golf World, Golf Illustrated, Golf Weekly, Score Magazine, Golf Tips Magazine, Muscle and Fitness, Esquire, Stuff, Schwing, Men's Journal, Choice Magazine, New Zealand Golf Digest, Vegas Golfer, ESPN Magazine and many others. Jason has been featured in books –'The Golf Guru Answers to Golf's Most Perplexing Questions', 'Best of Golf' and others. Jason has appeared on the cover of Score Magazine (June 1997, June 2005), Golf Digest (May 1999), Golf Tips Magazine (April 1998, April 1999, May 2007, Spring 2008 (Golf Power Annual) ), Golf World (November 2001), Golf Digest South Africa, Golf Digest Europe and Golf Digest Japan. He has also appeared on international television on many occasions; a series of 20 Pinnacle golf ball commercials (1997-2012), Cobra Golf commercials (2001-2012), Powerade commercial (2002), numerous talk shows including CBS's 'The Late Show' with Craig Killbourn, The Today Show, The Golf Channel – 'Playing Lessons From The Pro's', 'Fitness Academy' (featured numerous times), 'Pinnacle Power Tips', 'Kraft Shootout' (with Bubba Watson, Kevin Stadler and Jason Gore), 'Canadian Tour Weekly' and 'Golf's Most Amazing Videos', Discovery Channel - 'Science in Golf', Fox Sports - Sports Science Series – 'Fastest Ball in Sports' (and many other segments of Sports Science Series), ESPN – 'First Take', 'Re/Max World Long Drive Championship' (20 years), TSN (Canada Sports Network) numerous occasions, TV Asahi (one of Japan's top television networks) and on BBC, SKY and DSF in Europe.
Appearing in the May 2008 Muscle & Fitness article "Driving Force" by Joe Wuebben, Jason's career and training were profiled. Jason is the only Golfer ever to be featured in the pages of Muscle & Fitness Magazine, which is typically reserved for the world's best bodybuilders and athletes.
Jason has dedicated his life to hitting the golf ball as far as humanly possible, but he is classified as one of the World's top golf entertainers as well. Jason's exhibitions, knowledge, skills, and long drive prowess are sought after world-wide. Jason has performed over 500 exhibitions in over 20 countries and across 4 continents. Jason's unique blend of: world class distance, instruction, fitness knowledge, trick/performance shots, entertainment and humor make his exhibition an outstanding addition to any golf event.