---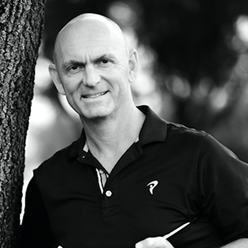 Born in England and raised in Africa, Dave believes in living life with passion, curiosity and purpose.
Described as "a visionary thinker with a passion for teaching and learning" Dave is located in Oceanside, California and is a co-founder of TPI. He is also a member of the PGA of America and has devoted the past 27 years to becoming a world-class high performance coach. Bringing innovation, education and proven application of sports performance, health, fitness and wellness to the golf, sports and business world.
Dave is ranked as one of the Top 100 Teachers in the country by Golf Magazine and Top 50 by Golf Digest.
TPI was developed by Dave Phillips and Dr. Greg Rose with the goal of creating the world's first true golf performance facility that looked at every aspect of a players game, from equipment fitting to biomechanics and the human body. As TPI developed it became evident that the information that was being obtained from working with the game's best should be passed on through education and the TPI Certified Brand was born. Since its inception in 2004, the TPI certified brand has become the largest of its kind in the world and has over 23000 certified experts in 62 countries and educates in 10 different languages.
Dave frequently appears on the Golf Channel, as a co-host of the Golf Fitness Academy and TPI Television shows, broadcast in 77 countries over an eight year time frame. Dave has also written articles for Golf Magazine, Golf Digest, Sports Illustrated and Mens Health and is a sought after public speaker that has lectured throughout the world on sports performance and business.
Dave and his family live in San Diego, California.