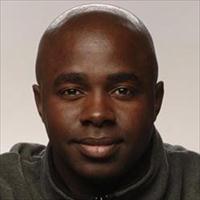 Milo Bryant
Milo F. Bryant
CSCS, NSCA-CPT, TPI-CGFI, FMS, USATF
In a room full of kids, Milo is the biggest, loudest, goofiest and most active one there. His passion lies in finding better means and methods of getting his younger brethren to move, to explore the communication between their brains and muscles and the interaction of those with the environment. After that, it's all about getting them moving more often!
Milo is the founder of the Coalition for Launching Active Youth (C.L.A.Y.), an organization he established to help the fight against sugar, boredom, video games, televisions and adults who have lost their inner child. Fundamental movement is Milo's weapon of choice. But give him a ball, bat, racquet and some space, and inactivity and obesity don't stand a chance!
Milo gets children, and those of us not so childlike, moving nationally and internationally while educating them on youth health and fitness. He is an advisory board member of TPI and regularly appears on the Golf Channel's "Golf Fitness Academy." Milo is a co-author of "Movement: Functional Movement Systems: Screening, Assessment, Corrective Strategies" and also writes a physical fitness column. But mostly, Milo spends his time working on that doctorate degree in movement-induced laughter and fun!